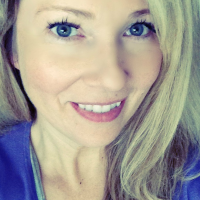 RaShelle Workman
Paranormal Romance, Science Fiction, Fantasy, Teen & Young Adult
RaShelle Workman is an international bestselling author of reimagined fairy tales, science fiction, time travel, and romantic suspense. All of her novels have been listed on multiple bestseller lists, including her Blood and Snow series (now Seven Magics Academy), which has sold more than a million copies worldwide. Three of her books have been translated into Turkish.

When RaShelle isn't writing, she enjoys baking, creating new taco recipes, and watching Supernatural. She lives in Utah with her husband, three children, and their dogs. Find her online by visiting her website at www.rashelleworkman.org. And sign up for her newsletter to receive free books and get information on book release dates: http://eepurl.com/chMcej.

RaShelle also writes sizzling sweet romance with a hint of mystery under the pen name, Ann Hardy.

Books by RaShelle Workman:

FABLE TOWN MYSTERY SERIES
Iced Raspberry Cookies and a Curse

WOLF BLOOD ACADEMY
Initiation (9/2020)
Induction (11/2020)
Inheritance (12/2020)

ETERNALLY ENTANGLED
Eternally Entangled (10/2020)
Thoroughly Tousled (11/2020)
Infinitely Intertwined (12/2020)

EERIE VALLEY SUPERNATURALS
Undercover Reaper
Twice Reaped

THE FAIRYTALE CHRONICLES
Royal Selection
Royal Contract (coming 2021)

PARANORMAL INVESTIGATIONS
Ghoulish Whisper (12/2020)

FAIRY ACADEMY
Hidden Princess
Broken Curse
Stolen Magic

DEMONLAND SERIES
Alice in Demonland
Alice Fights Demonland
Alice Takes Demonland
Alice Ignites Demonland (7/2020)

BEASTLY SERIES
A Beauty so Beastly
A Beauty so Deadly (2/2021)

SEVEN MAGICS ACADEMY
Blood and Snow
Fate and Magic
Queen of the Vampires
Deadly Witch
Royal Witch
Vampire Lies
Vampire Secrets
Vampires & Gargoyles
Vampires & Dragons
Vampire Magics
BOX SET
Seven Magics Academy Books 1-3: Blood and Snow, Fate and Magic, and Queen of the Vampires

IMMORTALS
Venus Falling

GODS AND PARANORMALS
Goddess Curse
Mystical Gift
BOX SET
Gods and Paranormals ~ The Complete Series

Sleeping Roses (standalone romantic suspense)

MAGIC BLOOD ACADEMY (coming 2021)
Elemental Outcast Games Book 1 ~ Fire
Elemental Outcast Games Book 2 ~ Water
Elemental Outcast Games Book 3 ~ Earth
Elemental Outcast Games Book 4 ~ Air

Ann Hardy ~ Sizzling Sweet Romance

PEACH VALLEY
Most Eligible Cowboy

Happily Ever Summer

LOVE IS A DESTINATION SERIES:
Rockstar Billionaire
Billionaire Best Man
Faking it With the Billionaire
Dating the Billionaire

PORT ST. AUSTEN BILLIONAIRE'S CLUB
The Betting Billionaire
The Country Singer's Billionaire
The Prideful Billionaire (8/2020)

Totally Scrooged


Download and enjoy all of RaShelle's books today!
Most are free with Kindle Unlimited!
I have always read all the latest cookery books and magazines, from all over the world.
Delia Smith